"What makes us confident in our work is not only the long lasting experience and professionalism of the whole staff, but also the fact that we successfully meet the requirements of our clients. We are grateful to all who has chosen us as their partner."
Stoyan Stoyanov

"We can assure everyone that we shall continue to work very hard, fast and according to the quality standards, thus satisfying the needs of all our clients."
Dobrin Bayraktarov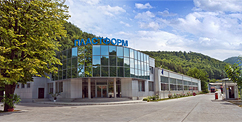 Plastform OOD has at its disposal production equipment made by worldwide famous companies. Our extruder-blowing machines are single- or two-station ones and can run one or two-cavity moulds (double die-head) and their production capacity is from 300 to 1300 bottles per hour, respectively. To produce caps and closures we use injection-molding machines BATTENFELD, ENGEL, KRAUSSMAFFEI and ARBURG with clamping force from 80 to 120 tons.
In 2008 a SACMI automatic line for compression molding of 28 mm caps with liner and 30/25 mm caps was started. A rotating tampon printing machine with two RTI heads is connected to the production line.
The large number of modern machines, their good maintenance and the excellent qualification of our staff, makes it possible to achieve high productivity and high quality of our products. The annual capacity exceeds 60 million of articles (bottles, tubes, boxes) and over 250 million of closures.
We produce:
- Containers made of HDPE and PP with volume of 30 ml to 5 l.
- Containers made of PVC with volume of 20 ml to 1 l.
- HDPE and PP caps and closures to supply our articles from all the other product groups.
- Caps made of PP 28 mm with liner and of HDPE 30/25 mm for РЕТ bottles

Plastform OOD has its own tooling workshop where injection moulds and blast-forms are made to satisfy our company needs as well as external orders. We use the most contemporary metal cutting machines: lathes, CNC milling machines DECKEL and DMG (with 3 and 5 axes, respectively), electrical discharge machine SODICK, grinding machines.
The quality of the manufactured tooling corresponds to the European and International standards.
Each batch of goods we produce is supplied with a quality certificate. Our clients are companies also ISO certified. We provide technical documentation required to apply for granting a patent. Due to the central geographical location of Gabrovo and the existing road net, we were able to create reasonable logistics schemes of delivery to our clients all over the country.